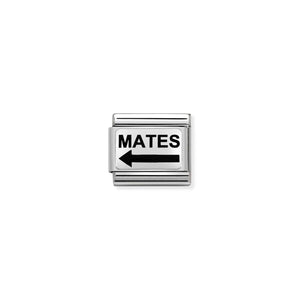 Sterling silver and enamel word 'mates' with arrow pointing right to left on a stainless steel Nomination link. 
A link with 'Soul' and an arrow pointing the opposite way is available to order separately under code number 330208 22. They can be put together on a bracelet in a row or shared between two individuals, one each, to wear on their individual Nomination bracelets.
Fits classic bracelet.
Code: 330208 23
Presented in Nomination packaging.