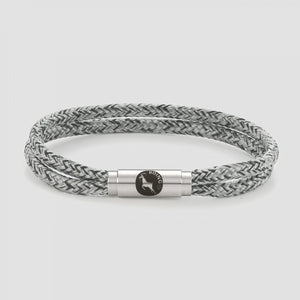 Boing bracelets are designed and made in the UK. A great gift for those who love the outdoors lifestyle!
Made from two strands of 4mm diameter professional US climbing rope, which is soft and comfortable to wear but also hard wearing. 
The clasp fastens with a Neodymium magnet that is 10x stronger than conventional magnets.

To measure wrist: Using a measuring tape or piece of string and ruler, wrap the tape /string snuggly around where you would prefer your bracelet to sit, take note of the circumference of your wrist.
For a perfect fit we know exactly what additional cm/mm are need, additional consideration has already been taken on the thickness of the rope / leather or metal. Please do not add in any extra slack or your bracelet will be too big.
If you fall between sizes it is always best to choose the bigger option, for example if your wrist size is 18.4cm choose the 19cm X-Large.
Small: 16cm
Medium: 17cm
Large: 18cm
XLarge: 19cm
XXLarge: 20cm
To care for your Boing:
Always rinse the clasp thoroughly if in sea water and leave open to dry.
Clean rope with soap and water or place in a washing machine inside a pillow case at 30 degree wash. Leave clasp open to dry.