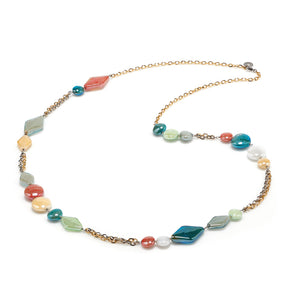 Part of the Antica Murrina Theatre capsule collection, this necklace is named after the Theatre L'Avogaria in Venice which has always been a point of reference for new actors learning their craft. 

This 100cm fashion length necklace features various colours of genuine murano glass beads with shiny minerals polished effect.
Fittings gold coloured galvanized alloy, stainless steel.

Gift boxed. 

Each item is unique as handmade genuine murano glass, colours may vary slightly from the image.