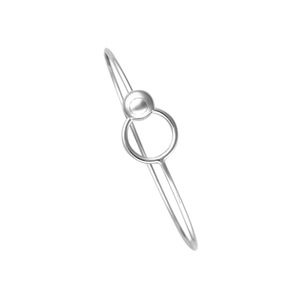 Sterling silver oval wire bangle with hook and ball design clasp at its centre. 
To put the bangle on simply unhook the clasp, slide over narrowest part of the wrist and fasten.
Central hook/ball clasp measures approximately 19x14mm.
Bangle wire approximately 1.5mm diameter.
Inside diameter of bangle approximately 60mm.
Gift boxed.