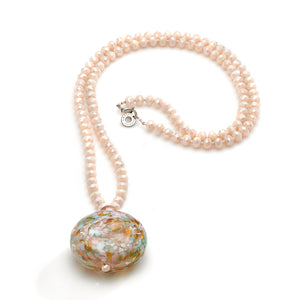 Part of the Antica Murrina Theatre capsule collection, this theatrical statement necklace is named after La Fenice which is Venice's largest theatre and main opera house.
Simple to just pop straight over your head, this is a great necklace for those who like to make a statement and struggle with fastening clasps. 

Large pinkish-blue colour handblown glass bead which hangs at the bottom of a long row of faceted glass beads with glossy finish. Fittings are galvanized metal alloy, stainless steel.

Length: 95cm
Gift boxed.
Every item is unique as handmade genuine murano glass, colours may vary slightly from the image.