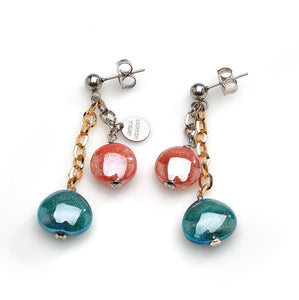 Part of the Antica Murrina Theatre capsule collection, these earrings are named after the Theatre L'Avogaria in Venice which has always been a point of reference for new actors learning their craft.
Green and orange tones make up these eye-catching two stand drop earrings approximately 55mm long with genuine murano glass pastel beads, polished finish set alongside sparking mineral glass beads.

Fittings stainless steel and galvanized metal alloy, one strand of which is gold coloured.
Gift Boxed. 
Each item is unique as handmade genuine murano glass, colours may vary slightly from the image.